The story of Qander
75% of incoming chats are automated by Chatbots Emma and Marleen.
Qander, one of the largest loan providers in the Netherlands, wanted to improve the efficiency with which they provided customer service. The goals were clear: answer more customer questions immediately, decrease the workload for the service team, decrease waiting times and be available 24/7. Of all the questions asked of chatbot Emma and chatbot Marleen, 75% of conversations handled by the chatbots, as opposed to live chat. Read the success story of how Qander made it happen!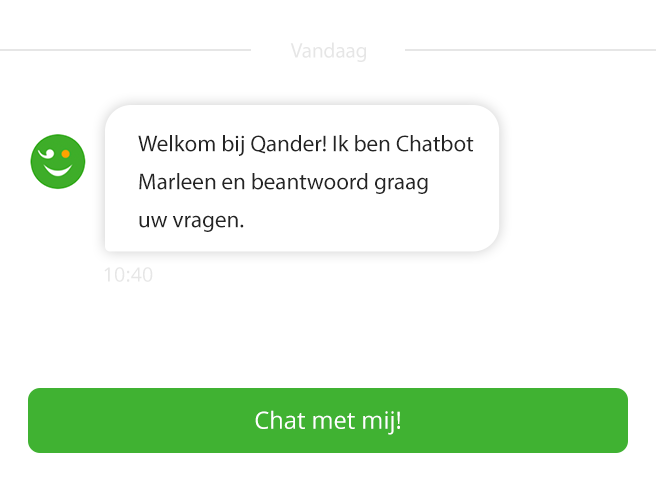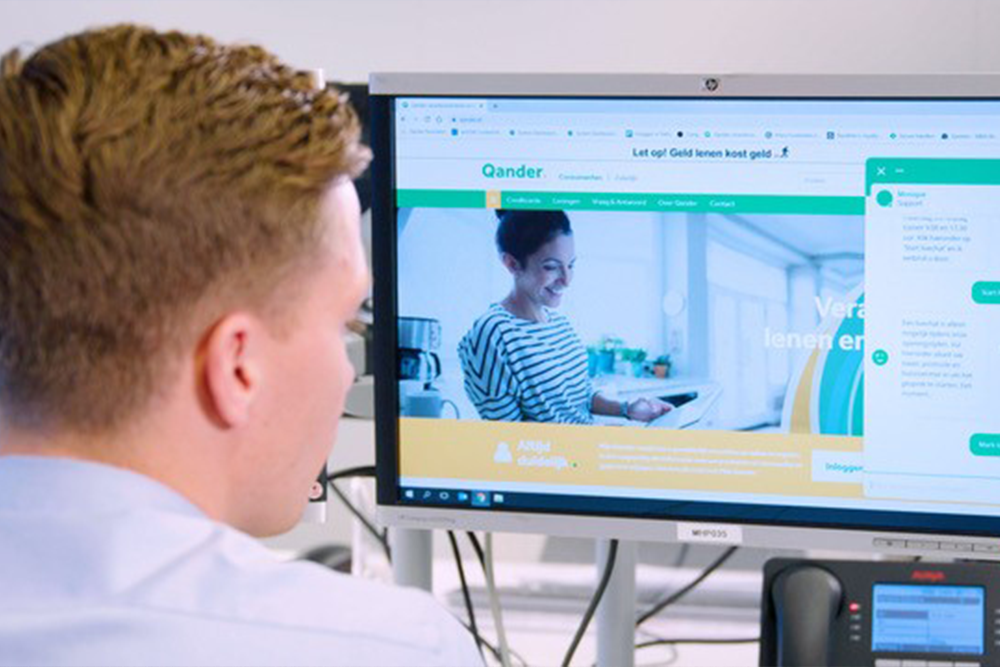 For over twenty years, Qander has been a provider of financial products and services - extending credit, via intermediaries and online directly through Directa.nl. In 2019, Mark van der Heijden, Qander's Customer Experience Marketer, started Watermelon's Onboarding process. Backoffice Admin Agent Juuli Kannus has, since then, been working alongside her digital colleague Chatbot Marleen. This approach was so successful that Toni Bogaards, Senior Sales Agent at Directa.nl, also got a digital colleague: a year later Chatbot Emma was launched on the Directa.nl website.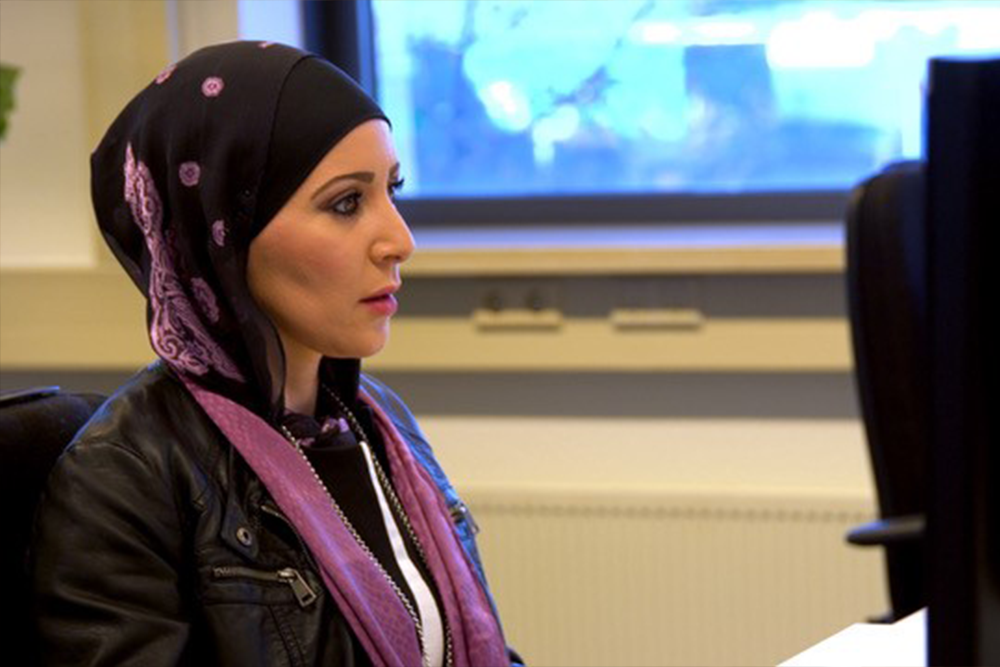 From Outsourcing to Chatbot
During the eCommerce conference WebWinkel Vakdagen, the Qander team passed by Watermelon's stand. Mark laughs when he recalls the enthusiasm of the two folks who talked with Watermelon that day. After this meeting, the idea to introduce a chatbot to the business seriously started to take form. "We were already discussing the idea of a chatbot. We noticed that we often receive standard questions that a customer could also find the answer to online. For Directa.nl we also had a third party managing live chat for us, but we often heard that the agents weren't always able to provide the answer. They didn't have the knowledge we did. Initially we were going to formulate a set of standard questions and answers for them, but in that case a chatbot is the even more efficient choice!"
"Watermelon made us more accessible. Most importantly, customers are satisfied; they're happy we're responding so quickly"
The goal of the chatbot 
Following this discovery process, Qander set a number of clear goals in implementing the chatbot. The most important goal? Increase the efficiency of customer service. Answering the frequently asked questions that might burden the team at peak times can be handled immediately by the chatbot. Increasing availability was also an important aspect. "We're open from 9 to 17:30 and closed over the weekend. A chatbot that's always online significantly expands that time window. We sought to improve customer satisfaction by improving the availability and efficiency of our customer contact."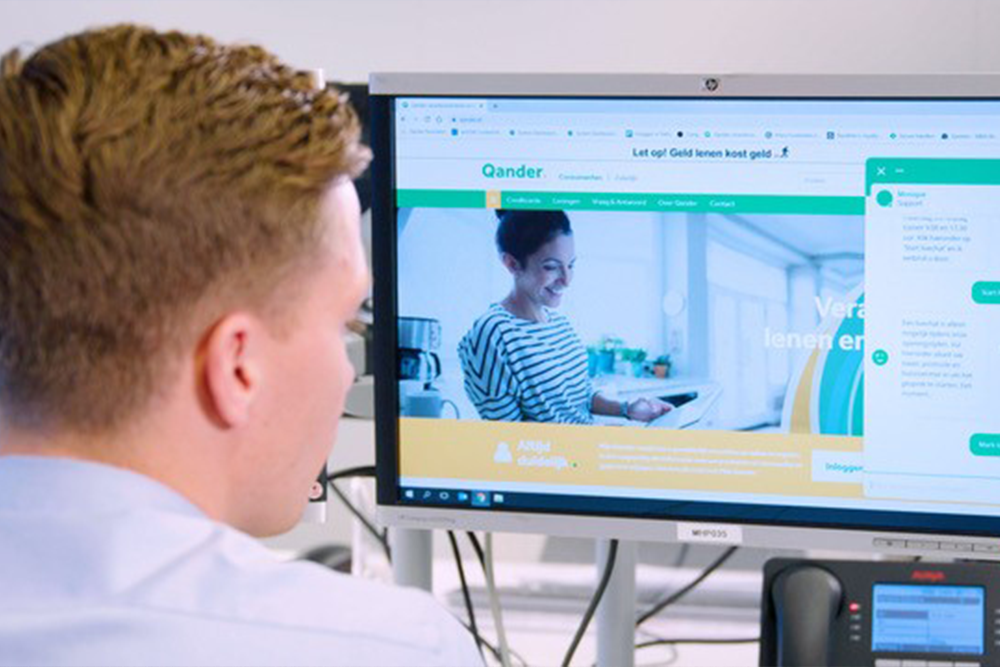 Building a chatbot
For Qander, programming a chatbot from scratch was not an option. Mark explains that developing and maintaining a chatbot was not feasible, considering they're a small organization: "Thanks to Watermelon's software, we didn't need any technical knowledge, and is considerably less expensive than building a chatbot ourselves!"
The need to provide the chatbot with a sizeable knowledge base was clear from the start. Mark describes the one and a half months spent gathering all the information: "We scraped the website, queried our customer service team and our data, and consulted our legal counsel. In contrast, actually building the chatbot only took about a week. Our team was very eager to welcome the chatbot, we kept hearing our people ask which day our new digital colleague would be starting. The service from Team Watermelon was awesome from beginning to end. Our Customer Success Manager was a true resource to our team. They were available just when we needed them. Now if something comes up, the team here interfaces directly with Watermelon" says Mark.
An optimal customer journey
With help from one of Watermelon's Customer Onboarding Specialists, the team at Qander worked to detail every touchpoint in a customer's journey. For example, if a customer's address were to change to a location outside the Netherlands, then the chat will be automatically transferred to a customer service teammate, as there's custom work needed. Customers are helped quickly, and the chatbots and our customer service team are working simultaneously in harmony", says Mark.
Performance
Then the critical question: does the chatbot do what it's designed to? The numbers don't lie: "On average 75% of the customer questions that come in via the chatbot are also answered by the chatbot. That means only 1 of every 4 customer questions is answered by a service employee; that's a sizeable time and cost savings!" says Mark. Chatbot Marleen and Chatbot Emma are also popular outside of office hours. "Approximately 45% of questions are asked outside of office hours, so customers are thankful for our degree of availability", says Toni.
Advantages of Watermelon
There's no doubt having a chatbot is of huge value to Qander's team and their customers. "The service we can offer with the chatbot is informal, easy and notably fast. It improves our level of service, because there's something for everyone: you can call, email, or start a chat. Watermelon made us more accessible. Most importantly, customers are satisfied; they're happy we're responding so quickly", says Toni. "We can easily switch between departments, too," adds Juuli, "I can easily transfer a customer to Toni, for example. That's another form of service we can offer to our customers."
Watermelon empowers Qander to offer more personal and more efficient customer service, and Chatbot Marleen and Chatbot Emma are already essential members of the team. Toni: "It feels like the chatbots have already been working with us for many years."