Automate up to 96% of support questions
Pulse revolutionizes chatbot creation. Enjoy a user-friendly interface for building and deploying your custom chatbot on websites, Facebook, Instagram and Whatsapp in just minutes.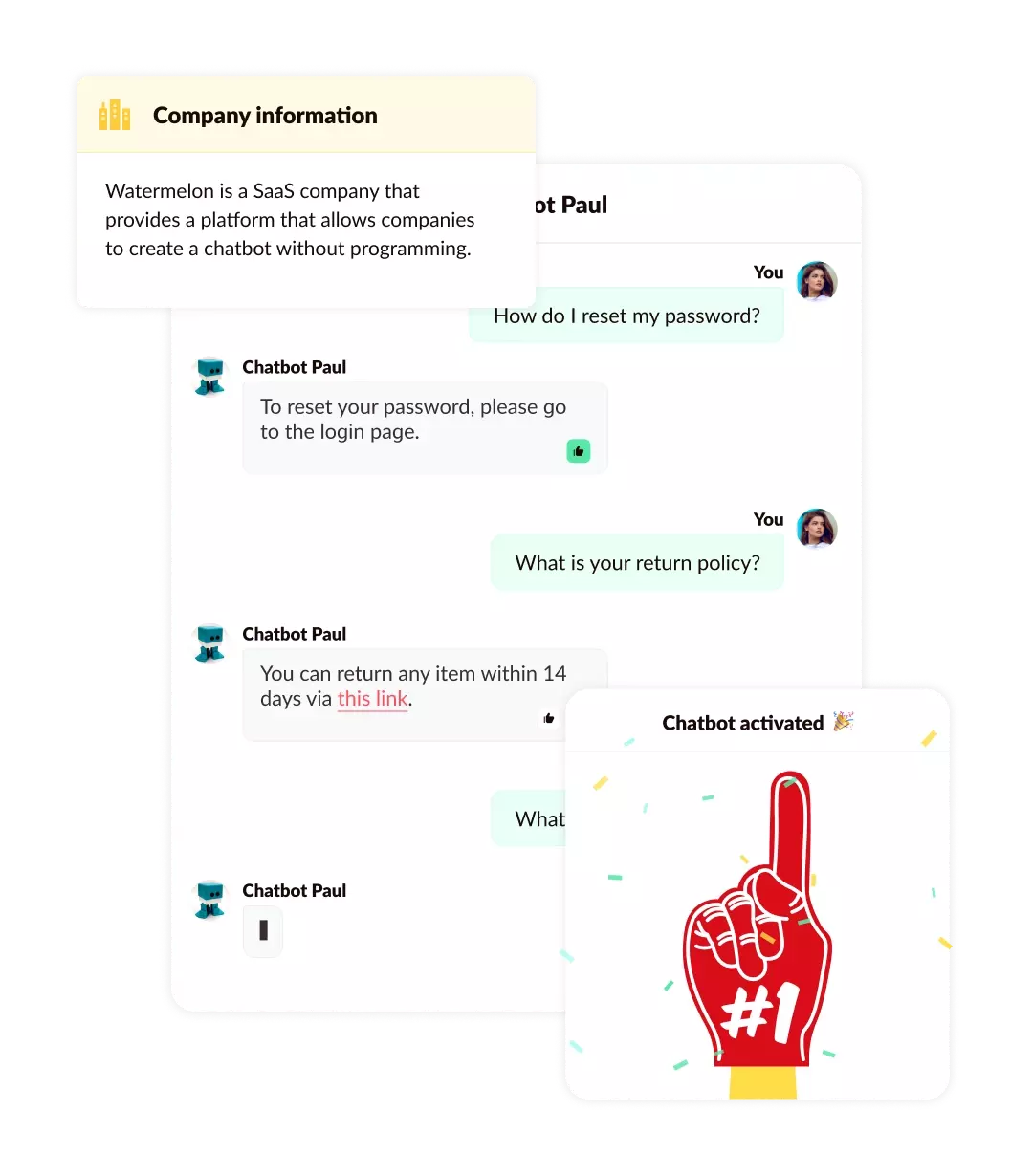 Welcome to the chatbot revolution: Meet Pulse.
A breakthrough AI chatbot powered by GPT-4, OpenAI's most advanced AI model. Pulse solves complex problems and provides more accurate answers than any AI bot on the market.
Natural Language Conversations
Get ready for real conversations with Pulse! No annoying flows or endless loops. It's all about valuable natural language interactions. And hey, if things get a bit fuzzy, Pulse asks those clarifying questions to keep everything flowing smoothly.
Seamless Human handoff
Switch to human mode effortlessly with Pulse! You set the trigger and when it's time, the chatbot seamlessly hands over the conversation to a human agent. No need for separate chats. It's all in one smooth conversation.
Reduce volume drastically
Slash your ticket volume with Pulse! Our advanced AI tech delivers safe and accurate answers, resolving customer questions in a snap. Say goodbye to the overload and let Pulse handle it like a champ.
Goodbye chatbot flows
Built in minutes
Build your chatbot in minutes! Just input your website's URL and our AI will handle the rest. Add manual input for relevant details and it'll learn from your help center. Easy peasy, Watermelon squeezy!
Always 'on' support
Any language, any channel, any time!
Pulse is here for you 24/7. Whether it's on WhatsApp, Facebook, Instagram or your website, our chatbot speaks your language and switches language instantly if needed and is ready to assist you anytime you need it. Resolve every customer inquiry instantly.
"Pulse is fantastic; it's the ideal way to build a chatbot, especially when compared to the 'old' way of building one! The results are excellent too!"
Frequently Asked Questions
Don't see what you're looking for? Shoot us a message!
How quickly can I build and deploy a chatbot using Pulse?
With Pulse, you can build and deploy a chatbot in a matter of minutes. Our user-friendly interface and AI-powered capabilities make the process fast and efficient.
Does Pulse support multiple languages?
Absolutely! Pulse speaks your language and switches to another language immediately if needed.
How does Pulse handle seamless handoff to a human agent during a conversation?
Pulse offers a seamless handoff feature within the same conversation. You have full control over when the chatbot triggers the handover to a human agent. This allows for a smooth transition and ensures that customers receive the assistance they need from a live person when necessary.